It isn't what it is -Sex, lies, spooks and Prosecco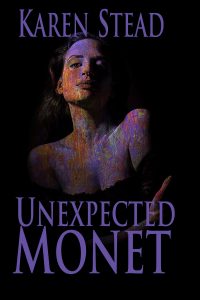 A review of Karen Stead's debut novel Unexpected Monet by Simon Lee (published in Now Grenada, 9 March, 2019)
(JaCol Publishing 2018 California)
What do you do when you walk in on your workaholic husband of 20 years, hard at it with another woman, in the marital home? Never mind he's been using you as his live-in doormat cum social secretary, or that he controls and manipulates you while he concentrates on the pursuit of filthy lucre and pussy galore. If you're a privileged foodie like Emma, long-suffering wife of chauvinist pig extraordinaire Andrew McKenzie, an antagonist every reader of any gender will love to hate, a trip to the local wellbeing spa, a few bottles of Pinot Grigio and a good sob on the shoulder of best pal Beth should ease some of the angst.
Stead begins and ends what is much more than a tedious tale of a betrayed middle-aged woman trying to get back a life, with both bangs and whimpers. There's a whole lot of banging and whimpering packed into 300 odd pages and if you get hungry because you can't put down this scorching page turner, there's food every few pages and a well-stocked bar to keep you reading. Jean Rhys may have alluded to Emma's situation in her early novel After Leaving Mr McKenzie, but Stead's Mrs McKenzie is made of much sterner mettle than any Rhys female protagonist and the landscape she inhabits is not Rhys' seedy demi-monde of sad cafes and cheap boarding houses but that of those familiar with the lifestyle of the corporate rich in the digital age: hair salons, spas, coffee shops, elegant restaurants, duplexes and townhouses; yoga and art classes.
Which might sound boring – until you stir in an Iraqi sex siren who doubles as a rogue secret agent attempting to track down her beloved brother's assassins; a rich young stud with abs to go who helps Emma get back her groove; a Claude Monet painting; money laundering, treason, espionage and lashings of eroticism all washed down with chilled champers. Think James Bond in the smartphone era: characters text each other, consult their iPads and Facebook, seek refuge in a Kindle; they track and bug with the latest spyware and quip post-millennial bon mots –"Am I being blond?"
Whatever lapses in craft come with a first foray into fiction –it's often difficult for readers to get a sense of place beyond a generic commuter town somewhere close to London; we know what characters eat, drink, what perfume, lipstick and makeup they wear but rarely what they look like –Unexpected Monet succeeds at the most functional level: it's 'a ripping good yarn'.
Here's a story, which isn't what it is, or think it might be. So instead of what appears at the outset – a feminist response to betrayal and patriarchal abuse – the narrative curve sweeps us into a cleverly plotted thriller and assumptions we've made about characters and their motivations are dismantled with carpet-removing sleights of authorial hand. Tempo and tension are finely controlled and even when we may feel shortchanged by two dimensional, or even stereotypical characterization, we gallop toward denouement.
Unexpected Monet is in one sense conventional – the good guy ultimately gets his girl, or should that be – good girl outgrows abusive oppressive marital lockdown, reclaims and reshapes her identity and with increasing emotional intelligence and maturity bypasses toy boy fantasy for the geek who values her as a person, rather than another phallic prey. In another sense Unexpected Monet is a postmodern text, blurring boundaries between media, easily integrating with the virtual worlds of social media, smartphone speak and surveillance technology. This maybe a vista the debutante novelist may wish to explore further.
For now, check out life after Mr McKenzie -what a brute -and whatever happened to Claude Monet's masterpiece
By Simon Lee
Simon Lee is a British/Grenadian writer, editor and veteran award-winning Caribbean journalist. An Oxford scholar, he has lived in the Caribbean since 1987 and is a specialist in Caribbean music, history, culture and the Arts. He has been published extensively regionally and internationally, his book reviews appearing in The Caribbean Review of Books and The Trinidad Guardian.