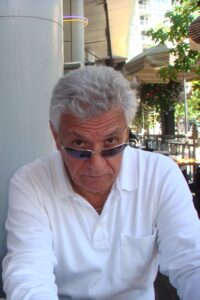 Philip M. Butera grew up in Buffalo, NY, earned a BS degree From Gannon College in Erie, PA, served in the US Navy then received an MA in Psychology from Simon Fraser University in Vancouver, Canada. He has published four books of poetry, "Mirror Images and Shards of Glass," "Dark Images at Sea," "I Never Finished Loving You," "Falls from Grace, Favor, and High Places," and one crime novel, "Caught Between."  His second novel, "Art and Mystery: The Missing Poe Manuscript," will be published in Fall 2021.  He has a column in the quarterly magazine Per Niente. and was a contributing editor for EatSleepWrite.net.  Philip won full scholarships to the 2017 Palm Beach Poetry Festival, 2017 Creative Capital Workshops, and the 2018 Creative Capital Advanced Weekend Workshop.  The Cultural Council of Palm Beach premiered his play, "The Apparition," and exhibited his poetry. The Artists Guild Gallery/Boca Raton Museum of Art also presented "The Apparition." Philip is the publicity coordinator for Mystery Writers of America – Florida Chapter. He lives in Boynton Beach, Florida, and is on Facebook.
His e-mail address is: Terracelanegroup@gmail.com.
7StoryRabbit Audiobooks and Jacol Publishing will collaborate on a PodCast radio production of "Caught Between" to be available in early 2022.